Red Sun Rising - Ryan Williams and Dave McGarry Talk About Thread, Collaoration and Unplugged Possibilities
By: Rick Landers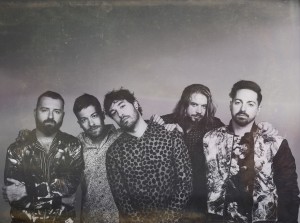 Red Sun Rising: Image by Sherwin Lainez
Out of the box, Red Sun Rising proves its live weight rests in the talent of a remarkable group of musicians with quick-witted rock licks, precisely polished harmonies, anthemic themes and a business sense that's as sharp as a stiletto. That's a sure-fire combination that only works when a group can conjure up that kind of magic at will, when it's time to deliver.
And deliver they do. Whether they're playing stadium rock or low-amped ballads, Red Sun Rising is a force of nature.
They're stunning lead vocals are the work of singer-songwriter, Mike Protich, who's coupled with Dave McGarry (rhythm guitar/vocals), Ryan Williams (lead guitar), Ricky Miller (bass/vocals) and Pat Gerasia (drums, percussion) to round out Red Sun Rising's cloudburst harmonies that reach for the sky, then cascade with a tightness reminiscent of REO.
Fans know the group's backstory that tells of Mike and Ryan meeting while pumping gas when they struck up a conversation, discovered their shared musical appetites, then as kindred spirits formed the band.
It could have ended there, in Akron, Ohio, if they'd just played local gigs waiting to be discovered. Lucky for us, the band was social media savvy and they built an ever expanding circle of fans through the Internet by pushing their music out beyond the clubs and bars of Akron.
With a global business strategy and a huge quiver of talent, Red Sun Rising began a journey that is impressive in its audacity and confidence. They self-released their albums with on-line previews that stoked the fires of interest of music lovers who seemed to be waiting for the return of those wide-open anthemic songs that were typically only heard on classic stations pushing '80s music.
The group signed with Razor & Tie Records in 2014 and released their Polyester Zeal album in August 2015, hitting the Billboard (Hard Rock) chart at #11. In anybody's book, that's a shuddering launch, a lift-off to bigger and better things.
And they did, with a couple of tracks charting at #1 ("The Otherside"/"Emotionless") and a third at #6 ("Amnesia) on the same Billboard chart.
Guitar International caught up with Ryan Williams and Dave McGarry while they're on tour, to check out the latest with Red Sun Rising and to gather up some insights into how the group works together, how they collaborate when things are tough, and the magic of working with a great recording engineer and more.
Guitar International also gives a big thumb's up to the tapestry of songs on RSR's newest album, Thread, that draws heat from grunge, hard rock, tender ballads and other musical styles to form a tasteful array of music for all to discover and explore.
Rick Landers: You seem to have captured the big arena rock sound that mixes it up with huge power chords, fine-tuned melodies and thoughtful changes in how you've put together songs. They all tie together well on an album, but they also stand on their own. This can be pretty complex and lead to disagreements in-house, when emotions can run high while on the road to getting things locked down. How does RSR collaborate and how do you handle different ideas when you're not all in synch?
Ryan Williams: This process is the most difficult in the creation phase of the writing, especially when deciding which songs garner the most attention. That is the phase when communication is key. We then hash out what it is that each individual member does or does not like about each song. This is when our personalities really begin to shine in the music. Dropping the ego and making each decision about the song is probably the best advice we could give to any band. Nothing is better than when all of us are behind a song fully and share the same enthusiasm.
Rick: Of the two of you, who's the best guitarist and why? (Tongue in cheek…)
Dave McGarry: I feel we are better than each other at certain moments. I started out early in my career on drums, so when it comes to guitar..I'm more of a tight, rhythmic player, mainly when strumming/palm muting syncopated riffs. Our producer Matt Hyde coined me as "Digital Dave" while recording Thread.
Ryan is more of a lead style player and really shines when it comes to composing top lines and shredding solos. He also kills it when it comes to dialing in amps and effects, both live and in the studio. We bounce off each other which makes for an interesting six-string relationship.
Rick: I've found that a good recording engineer is kind of a magician. A song that might be a bit limp or even monotonous can become an anthem of sorts in the hands of the right engineer. Do you agree? Who's on board on that work and do you enjoy the cutting and pasting side of recording?
Ryan Williams: If having great songs is the skeleton of the album, then a great engineer is the life blood. We as artists decide what the personality of the song is based on how we use our equipment and what equipment we use. Those sounds still have to be conveyed as they were intended in the final product. That is where a great engineer comes in. We are an edit on the fly band and a getting the sounds as we go band. We are far more focused on the performance and the initial sound that is captured. We are a band who doesn't use tracks and wants as few studio tricks as possible.
Rick: Do you two write songs by noodling around or with some kind of intent?
Dave McGarry: I mainly take a producers approach in this band and like to come in when the stripped down, acoustic version is ready. Harmonies and structural moments in songs is where I find myself to have the best ideas when writing together.
Ryan Williams: Both. Sometimes just playing my guitar I stumble across something that I can immediately see the bigger picture. Then again, sometimes a band member will pitch an idea to me and my intent is to take it to the next level.
Rick: Do you find balancing your home life with your touring a tough challenge? What do you miss most about just hanging out at home?
Dave McGarry: I find it to be very challenging. Especially because I have a relationship, a three year old daughter (Avalee) and just bought my first home. It's really tough to balance communication with time zone changes in the U.S. and also other countries around the world. I'm thankful for FaceTime mostly, it would be much harder if we were in the '90s still using land lines and writing letters/sending postcards. I also miss my bed, toilet and shower. (Laughs)
Rick: When you met at that gas station, was there some immediate chemistry or were you a bit wary about the other's level of talent, or even if you'd get along?
Ryan Williams: Mike and I met at the gas station in our hometown of Tallmadge, Ohio. I actually don't think there were any expectations of each other's talent. Mike was familiar with my bands music and I was desperate to find a singer who wasn't that shit crazy and had an inkling of talent! Four months later we set up an audition and the rest is history.
Rick: I've found that people from the Midwest tend to have good values and are pretty reliable. They also know the meaning of hard work. When I meet someone from, say Ohio or Michigan, there's something grounded about them. Is there a difference between the on-stage person and the off-stage one?
Ryan Williams: A good work ethic is an admirable characteristic in the Midwest and seems to be passed down from generation to generation. Maybe because there's not a lot else to do. There's always been a strong competition in this band, especially when it comes to who does the work. I Attribute most of our success to this. The only difference between the guy on stage and the guy off stage is; The guy off stage does all the work to make the show happen and the guy on stage gets to enjoy the fruits of his labor.
Rick: What kind of gear are you using on stage, and at home when you're hanging out do you grab a special or favorite acoustic?
Dave McGarry: On stage, for guitars.. Gibson Les Paul Standard and Studio and a Fender Telecaster Deluxe Elite. Mesa Stiletto Deuce amplifier with a Mesa 4×12 Ox Blood Cab. Fractal AX8 for effects with Audio Technica wireless systems. At home I have two Taylor 314ce's, one of them is the road dog. She's my favorite go to.
Ryan Williams: I use a Gibson 1961 Custom shop SG, A Gibson Les Paul moded, a Frankenstrat, My go to amp is the Marshall JCM 900. My pedals vary from Dunlop, Earthquaker, Boss, and Electroharmonix.
Rick: Have you been surprised by how much some audiences – or all audiences for that matter – like a particular song, that you didn't think was that much better than the others?
Ryan Williams: Not really, there are more songs that we wish had more time in the sun though. No pun intended.
Rick: Tell us about your last big project, your current projects and what we can expect from Red Sun Rising this year.
Dave McGarry: Thread is our most recent project, the album dropped on March 30th. Currently, the band mainly writes acoustically and we put our ideas in the box app to keep track of them. Mike, Ryan and myself are always writing new riffs and/or working on melodies. We're on tour at the moment and will be through the Fall. We're about to work on a cover song for our upcoming Sirius XM unplugged session.
Rick: Like the song and "Deathwish" video, and some others from your previous work including, "The Otherside." What tracks are your favorites from the new album?
Dave McGarry: "Left for Dead", "Stealing Life" and "Rose" are my favorites from Thread.
Ryan Williams: All of them, but I'm most proud of "Stealing Life", "Rose", "Deathwish" and "Clarity".
Rick: I found a video of you covering "Uninvited" by Alanis Morrisette. Cool cover and made me wonder if you think an unplugged album might be in the near future?
Dave McGarry: I would love to record an unplugged album..maybe even live like Nirvana did.
Ryan Williams: It's nothing we've discussed, but it's certainly not something we're opposed to. This band is up for anything.