Leicester Square theatre, London
Cho gleefully goads the demure with an in-yer-face set that, amid the name-dropping and self-promotion, has some almost fabulous moments
If you noticed US comedian Margaret Cho sounding off this week about the "yellowface" turn by Janette Tough (AKA Jimmy Krankie) in the Ab Fab movie, you'll have guessed she has a show to promote. Now here it is: an hour-plus of queer comedy and gossip, vainglory and in-yer-face sex. Not for the first time, I find that a slightly awkward combination, but it bothers Cho's fans not a jot. They're here for her considerable force of personality –and they get it with knobs on, and other sexual organs besides.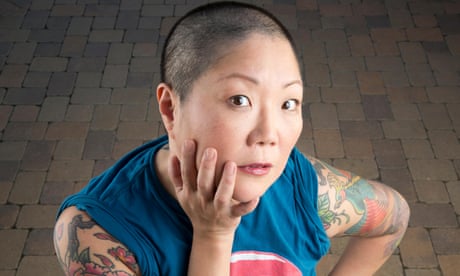 Margaret Cho: 'If Trump becomes president, the whole world's in big trouble'
Even for the rest of us, there's plenty to enjoy. The show's opening stages are unshowy by Cho's standards, and more effective for it. In an opening section on her bisexuality, there's a choice metaphor for the moment she found herself sharing an egg-shaped sex toy with her female partner. A routine about her vibrator piles image upon image to express its turbo charge, until Cho's neighbours gather outside her house in protest because they think she's fracking within.
This anything-goes sex-positivity is a prominent feature, deployed gleefully to goad the demure – such as in the parallel she draws concerning poppers, arseholes and extendable dining tables. The show is less adroit when Cho moves into social commentary. A routine about rape gets tied up in withholding credit to Bill Cosby for his "brilliance". A section about her own abuse by an uncle tapers towards a conclusion at odds with her zero-tolerance rhetoric. Elsewhere, one or two routines get snagged by self-promoting detail and the loud dropping of names.
Joan Rivers is one such name, and the spectre lingers thereafter of a comic who incorporated egoism more surefootedly into her comedy. But there's skilful stuff here, including Cho's camp dumbshow of a reluctant cunnilinguist, which posts a closing reminder of the sex comedy she does best. Not absolutely fabulous, then, but occasionally so.